PAVER INSTALLATION SERVICES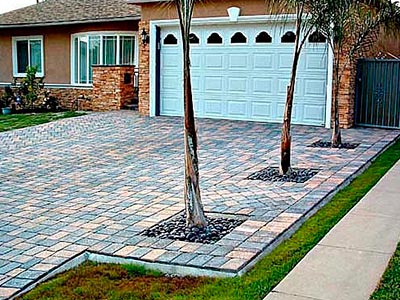 At Discount Pavingstone, we specialize in installing custom and high-quality paving stone products. Our qualified and licensed team has over 25 years of combined industry experience. We have the skills, experience, and resources required to transform your outdoor living area ideas into reality. We serve clients throughout La Crescenta, CA and the surrounding areas. Explore the different types of paving stone services that we offer.


Stone Pavers
Stone pavers allow you to add a new dimension to your home. We specialize in using stone pavers to help our clients create stunning and functional patios, walkways, driveways, and other backyard features. We provide stone paver installation services featuring different types of stone pavers including bluestone, cobblestone, and travertine. Stone pavers are popular for a multitude of reasons. They are beautiful, available in a wide range of colors and textures, offer many design options, and are valued for their high level of durability.

Besides sturdy and long-lasting patios, driveways, and walkways, we also build retaining walls using stone pavers. The material offers the durability and strength that retaining walls require and looks that are difficult to beat. These landscaping features help protect your garden and landscape from erosion and can last decades. We design and install all types of outdoor features using stone pavers to help transform your ideas and vision into reality. Read More About Stone Pavers »


Interlock Pavers
Interlock pavers are the ideal choice of materials for patios, driveways, walkways, and other hardscapes. We design and install stunning, durable, and long-lasting hardscapes to enhance your outdoors. Interlocking pavers are known for their durability and longevity, and we create outdoor features that offer excellent resistance to degradation from the elements. Abrasion-resistant pavers last for decades and provide a cost-effective material choice. Besides, interlocking pavers are eco-friendly options. They prevent stormwater runoff from building up, thus protecting against erosion, flooding, and contamination.

Our interlock paver solutions include driveways, walkways, patios, steps, porches, and more. We provide both new installations and repairs. We also specialize in enhancing the existing hardscapes on our clients' properties. Our installation process begins with a consultation where we gather all the required information about the property, client preferences and needs, and the project and its specifications. This is followed by professional designing, planning, and installation. Read More About Interock Pavers »


Concrete Pavers
Concrete pavers are highly durable and make beautiful hardscaping materials. From choosing the right pavers to design and installation, we help you create driveways, patios, walkways, and other features of your choice while leveraging the best of concrete pavers. These pavers stand out for their high durability. They can withstand thousands of PSI and can last for years even when used for driveways handling heavy vehicles. Available in a wide range of colors, shapes, and textures, concrete pavers allow you to give a customized look and feel to your outdoors.

Concrete pavers are also cost-effective in terms of both initial investment and cost of ownership. We specialize in the design and installation of different types of hardscapes. Concrete pavers make excellent materials for creating durable, long-lasting, and beautiful patios. Besides offering their durability and elegance, these materials also provide a safe surface for walkways, pathways, and patios when the conditions become wet. Read More About Concrete Pavers »


Driveway Pavers
Pavers work as some of the most durable materials for driveways. Driveway pavers provide 4 times the load-bearing capacity available with traditional material options for driveways. We help create durable, flexible, and versatile pavement services. Besides offering durability and sturdiness, these surfaces are flexible and will shift with the movement created by vehicles and earth. There are many benefits of using driveway pavers. They add value to your property, provide peace of mind for years, are slip resistant, and require very low maintenance.

Driveways are meant to be used all year round. With the slip-resistant surface provided by driveway pavers, you will not have to worry about your vehicle's tires slipping. These surfaces are also easy to maintain. Regular sweeping and once-in-a-while cleaning is all the care they will need. Cracks and damages can be easily and quickly fixed, as the damaged pavers can be readily replaced. Read More About Driveway Pavers »


Patio Pavers
A well-designed and properly installed patio creates the backdrop for a great outdoor experience and landscaping. Everyone has unique ideas and visions about creating or transforming their outdoors. We specialize in helping you achieve your goals by creating the patio of your dreams. A professionally designed and constructed patio can significantly increase your home's value no matter whether you are planning to sell your home in the future or not.

We follow a proven process for designing and installing your patio. This includes initial site inspection, design development, planning, approval, groundwork, and paver installation. Our team will work with you during the design phase to help choose the perfect pavers and create a customized effect. We provide custom paver patio solutions where you will have control over the aesthetics and texture of your patio. Perfection radiates from all aspects of our installation process, from start to finish. Read More About Patio Pavers »


Outdoor Living
We specialize in creating a full-fledged outdoor living experience. This includes more than installing a customized patio. We help create different features to enhance outdoor functionality and comfort. The perfect outdoor living area creates space for entertaining guests and family and increases your home's value. An outdoor kitchen, bar, fire pit, or fireplace allows you to invite guests and host outdoor parties. Our team will work closely with you to create the perfect outdoor living experience that you desire and deserve.

Comfortable seating is an important element of any outdoor living area. We help you create an inviting outdoor space for sitting and relaxing. This includes creating different types of seating options. Cooking and dining facilities are also a must-have for creating an inviting and cozy outdoor living experience. You can also have us design and install a focal point such as a water feature or fire feature. Oftentimes, our clients will select their focal point idea before we design their outdoor living space around it. Read More About Outdoor Living »

If you want to learn more about the range of services that we offer, get in touch with us. You can contact Discount Pavingstone at 1-866-64-STONE or send us a message using this Online Form.